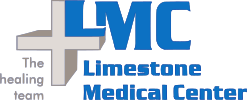 Limestone Medical Center recognizes Dr. Rettig and announces new partnership.
As the year 1987 was drawing to a close, Jeffrey Rettig, D.O. and his wife Roxanne visited Groesbeck and the South Limestone area. He was completing his residency at Phoenix General Hospital in Arizona and was looking for an area to establish a medical practice.
That visit led to a ribbon cutting ceremony on Friday, July 29, 1988 for the medical office of Dr. Rettig, located at the South Limestone Clinic next to South Limestone Hospital.
Thirty years later finds Dr. Rettig and South Limestone Hospital District partnering once again. Effective Monday, July 23, 2018, South Limestone Hospital District acquired Rettig Family Health Care and the providers and staff will become Hospital employees. Over the years the Hospital, Dr. Rettig and his clinic staff have built a strong professional relationship. Dr. Rettig has provided exemplary leadership as Chief of Staff, Medical Director and in a variety of other Hospital roles. Rettig Family Health Care employs many long tenured employees. South Limestone Hospital District Board of Directors President Mr. Danny Hewitt stated "this partnership will be good for the communities, good for Dr. Rettig and his staff and good for the Hospital." Mr. Larry Price, Hospital Chief Executive Officer recognized the significant accomplishments realized by Dr. Rettig and states "the Limestone Medical Center staff and I welcome this opportunity to work closely with Dr. Rettig and his staff." He continued saying that "this union will be an asset to the community." "Along with my staff, I am very pleased about this new partnership," said Dr. Rettig. "South Limestone Hospital District's support will enable us to continue to provide care for our patients, and we look forward to the next 30 years."
The Board of Directors, Administration and staff of Limestone Medical Center congratulates Dr. Rettig on 30 years of service to the residents of Groesbeck and the surrounding communities.